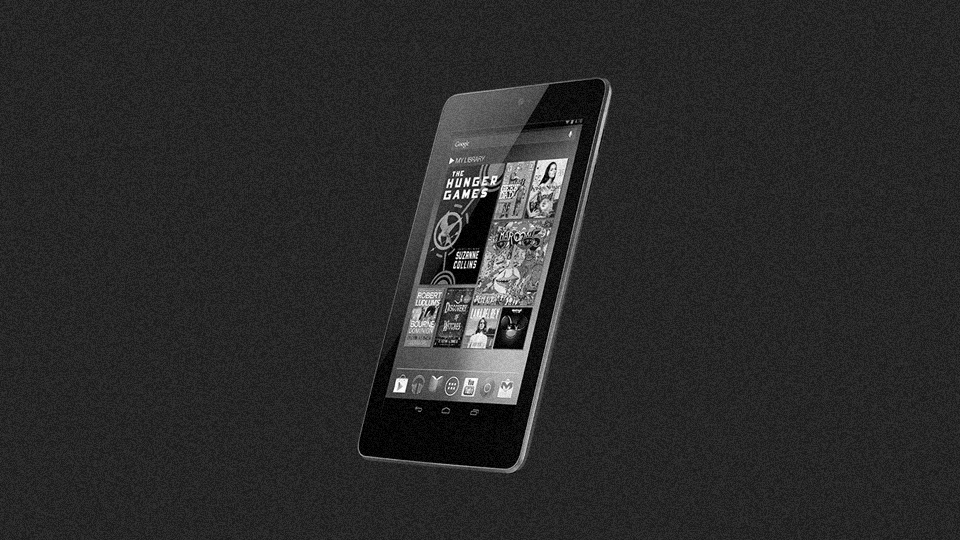 I've been on the fence for quite some time about buying a tablet, whether or not I'd have a use for it, and if it would fit into my moderately rigid tool set when it comes to productivity and entertainment gadgetry. As an Apple user, copping an iPad seemed like a logical choice once I'd decided to try a tablet, but I've just never been too thrilled with the form factor of the iPad.
Enter the hardware/software brodown by Google and Asus.
I bought the Nexus 7 after reading various little write-ups about over a few days. Right out of the box, this thing is pretty sweet. After my initial, expected, and typical buyer's remorse, I envisioned myself using this piece daily, at least into the near future. This revelation happened within the three hours that went by, from first holding one in the store, to un-boxing and getting acquainted.
I'm very impressed with the overall build quality and quite surprised at how much of a joy this little guy is to use. For me, and and I'm sure I'm in the minority as an Apple person, the iPad just felt too big to really be a reader, and way too costly for me to ever consider taking it out in public, or into the urban terrain I sometimes venture. Nexus 7 somehow seems less douchy, and it's also less conspicuous, which is always an asset in areas where you could get clapped up. Which, you know, is everywhere in these times of financial unpleasantness. As compared to the iPad, no it's not the same build quality, but it's up there. Again, for me, the size of the iPad was more of a buzzkill than any thing else. Apple's supposed to be dropping a "mini" iPad soon, so maybe that will fit the bill. Of course, they'd also have to compete with the price of the Nexus 7, so we'll see how it all shakes out. I don't know if the Nexus 7 will always be my device of choice, but I think using a tablet of this size has at least convinced me that I could find some use for one in my daily routine.
Anyway, I'm not writing this to be an extensive review of any kind. I will say that it feels excellent in the hand. It's fast, and has all of the features I'd expect in a tablet, even though it's wifi-only, and has some of the typical Android quirks and UX inconsistencies. If you enjoy a good piece of tech that is solidly built, and isn't going to make you paranoid to carry it around, give the Nexus 7 a try. The size of it seems to hit a sweet spot that isn't too big and isn't too small. It's portable as all hell, and for those of you sitting on your hands, not really ready to jump into the sordid tablet scene, this might just be what you've been waiting for, with little financial risk. Check out Google's sales kit here.